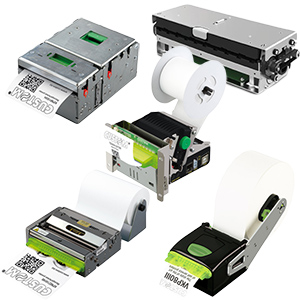 CUSTOM Self-Service Thermal Kiosk Ticket/Receipt Printers and Document Scanners for ATM's, pay at the pump fuel dispensers, self check in kiosks, vending machines, unattended parking payment and access control systems and a myriad of other applications.
Self-Service is a particularly tough field, being subject to the maltreatments (unintended or otherwise) of untrained, unmonitored users and being located across a wide spectrum of indoor and outdoor environments. Consider also that the printer is mandatory to the operation of most self-service equipment fitted with printers, requiring autonomy and reliability of the highest level.
Our latest generation of the toughest most reliable Thermal Ticket/Receipt Printers and Document Scanners for self-service use is the culmination of over 20 years gaining insight and expertise through hard lessons in this field, combined with some brilliant innovation by our talented engineers.
Display 50 Products per page