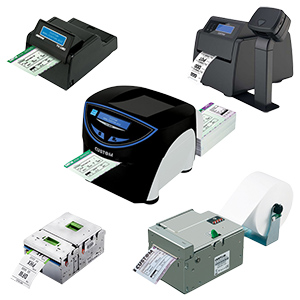 Passenger tickets, boarding cards and luggage labels are synonymous with airport and airline operation. With passenger numbers and air traffic continuing to increase relentlessly, self check-in has become the norm and quick, efficient and dependable printing at manned desks and at self service terminals is more critical than ever.
Our desktop and self check-in aviation printers are improving the operator and passenger experience at major international and domestic airports around the world. Native AEA firmware compatible with CUTE and CUPPS platforms leads to quick and easy integration and deployment.
The printers are fast and reliable, they are intrinsically compact and furthermore can save the space of multiple large printers by way of loading and running narrow bag tags and two different large format boarding card stocks automatically through the same printer according to the application sending the print, with no manual paper changing or other intervention required.
Display 50 Products per page